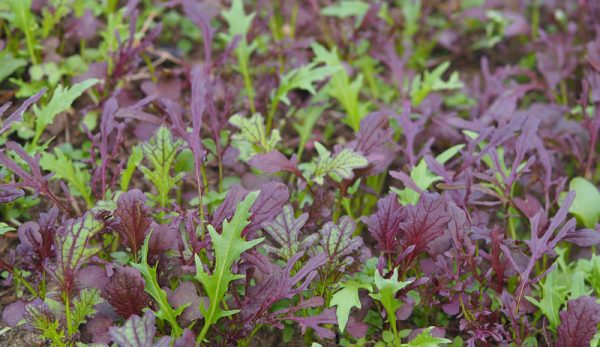 PHOTO: ElenVik/Shutterstock
I will never forget the farm walk years ago with a non-farmer friend who asked about that row of vibrant purple leaves surrounded by rows of green. Knowing very well he had no idea what he was in for, I plucked a leaf and said, "Here. Try it."
That row of purple was mustard greens, growing in the middle of a dry summer—spicy as heck. This friend and I no longer keep in touch, and I'm now wondering if there's a connection.
Fast forward to right now, mustard greens continue to be a star of my garden. It's mid-December as I write this, and those leaves are as big as my abdomen. The leaves that were touching the row cover on the coldest nights have shown just a bit of frostbite, but they're hanging in there.
Over the summer, the mustard greens bolted faster than I'd expected. Even though they're leafy brassicas, I've always known these greens to do better in the heat. Still, they did well enough that I plan to keep this crop in my garden year-round.
How to Grow Mustard Greens
Mustard greens can be direct seeded, as I did this winter crop, or started indoors. A benefit of direct seeding is that you can eat the small plants that you thin from the row.
The fast-growing greens germinate within a week, are ready for baby greens harvest in about a month, and reach mature size in six weeks.
Some mustards produce leaves that are comically large, as those in my garden have. Pay attention to seed packet instructions, as you want to give those plants more space. Otherwise they'll shade out their smaller garden partners.
Flea beetles and cabbage loopers are big fans of this crop. Flea beetles hatch from the soil, so if you have beds that have shown flea beetle activity, don't plant the greens there. Row cover will help keep away flea beetles and cabbage loopers otherwise.
---
Read more: These 5 tips will help you keep cabbage loopers out of your garden.
---
How to Harvest
A regular, twice-a-week harvest schedule will keep your mustard greens producing.
The taste you prefer in your greens may determine when you harvest them. The level of peppery taste in the mustard green leaves varies based on variety, rain/irrigation amounts, pest pressure and temperature. It's hard to know exactly what you're going to get.
In general, the more stressed a plant is—dry, hot, buggy—the spicier its leaves will be.
I have heard the smaller the leaves are, the spicier they are, too. It's as if they're born with the amount of spicy they'll have throughout their life, and that's either spread out through a huge leaf or concentrated in a tiny leaf. I can't say I've found this to be consistently true.
Like kale or chard, the mature leaves of mustard greens are harvested leaf by leaf, snapping each off at the base of the plant. Leave four or so core leaves intact so the plant will continue growing.
Mustard Greens and Mustard
If you're wondering about the connection between mustard greens and, well, mustard, there is one.
Mustard—the condiment—is made from mustard seeds, which are produced by mustard green plants. The bolting that greens are prone to sends up a flower stalk, which then produces the seeds.
Let your mustard greens bolt because pollinators love the flowers and because you can collect the seeds, either to grow more greens or to cook with, grind into mustard powder and make mustard.
---
Read more: Here are 5 mustard varieties you should consider growing in your spring garden.
---
How to Eat Mustard Greens
If you love greens as much as I do, you'll have no problem finding ways to incorporate mustard into your dishes. It is true that mustard greens' spiciness mellows as they cook, but if you're a newbie, remember that a little can go a long way, depending on when they were harvested.
In the beginning of my food journey, I made a quiche with mustard greens, dandelion greens and arugula, and it was bitter, spicy and genuinely inedible. I have learned since that quiche with mustard leaves combined instead with a mild-flavored leafy green is quite tasty.
Along those lines, I add a leaf or two—depending on how ridiculously sized they are—to most of my dishes involving greens.
Mustard greens in a greens shakshuka, a mess of greens with bacon or smoked turkey, or a simple sauté with kale and garlic adds a range of flavor and nutrition to your meals.
Small leaves make tasty microgreens and spicy additions to salad greens or sandwich toppings.
Winter, spring and fall (and often summer), mustard is a crop for big leaves and big flavor.