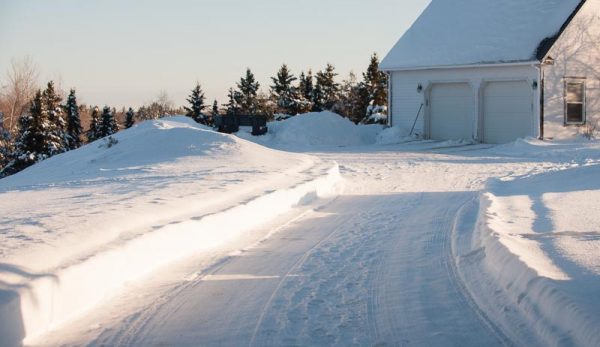 Generally speaking, tractors don't have to work as hard during the winter as they do during the other three seasons. You won't be plowing fields, baling hay or adding compost to your garden beds when it's 0 degrees F outside and there's a foot of snow on the ground.
But that doesn't mean your tractor has to spend the winter slumbering away in a garage.
To the contrary, there are many winter tasks tractors can accomplish, especially when they've been properly prepared for handling winter conditions. Put in some winter oil, add tire chains and weights, and take care of the battery during cold weather. Your tractor will be ready for anything.
Need some ideas? Here are five winter farm tasks you can tackle with your tractor.
---
Read more: These 4 tips will help you start your tractor easier in cold weather.
---
Plowing and Removing Snow
Armed with a plow, rear blade or even just a front-end loader, tractors can make quick work of heavy snow.
Have you ever experienced one of those crazy Midwest snowstorms where 2 feet of snow falls in 48 hours? A little self-powered snowblower is bound to struggle under such testing conditions.
But a tractor—with its greater strength and larger implements—can handle virtually any volume of snow.
Snowblowing
If you want to up your snow removal game to the highest level, a snowblower attachment will significantly speed up the process while capitalizing on the strength and power of your tractor.
Large utility tractors can handle snowblowers 6, 8 or even 10 feet wide, allowing you to quickly clear impressive swaths of snow with ease.
Just be careful where you drive!
Hauling Supplies
It's easy to traverse all corners of your farm when the ground is dry. You wouldn't think twice about driving a carload of horse feed across your yard to the barn.
But even the regular routes around your farm can become tough to negotiate in the winter, making your tractor a critical tool for transporting supplies across the snowy landscapes of your farm.
---
Read more: Winter is the perfect time for some light logging. Here's why.
---
Logging Your Woodlot
Have you given thought to logging during the winter? There are many advantages to harvesting logs and firewood when there's snow on the ground. But you won't want to tackle the job without a strong utility tractor.
Tractors are perfect for negotiating uneven terrain and hauling your harvest out of the woods. They can even be used to pull and power a portable log splitter, allowing you to turn trees to firewood right on the spot.
Making Maple Syrup
If you're fortunate enough to have a stand of sugar maple trees for producing maple syrup, your tractor will be your best friend when it comes time to tap the trees and gather sap.
Sure, you could trek out on snowshoes, struggling to pull a sled full of buckets behind you. Or you could let the tractor do the work. Certainly you'll want the tractor involved when it comes time to haul back the gallons (and gallons and gallons!) of sap you've collected for boiling.
How do you put your tractor to use during the winter?