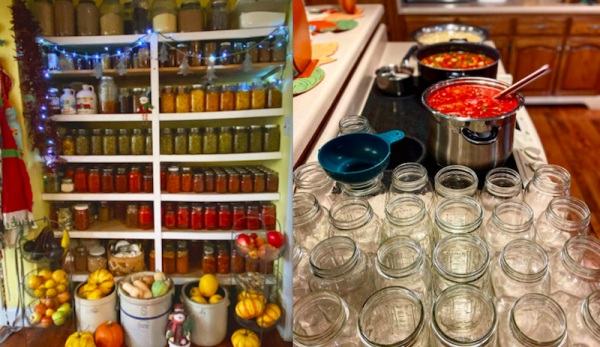 When Chas and her family wanted to name their homestead in the Southeastern U.S., they found inspiration in a passage from the Bible.
"Believing our children were 'a heritage from the Lord,' as it says in Psalm 127:3, and knowing that all our efforts were to raise and teach them, the word heritage stuck out to us," recalls Chas, who settled on the name Heritage Acres Homestead.
"We want our lifestyle to be a blessing and a heritage as well."
These days, Chas shares her passion for homesteading with the world via her blog and social media outlets. There, you'll find inside looks at her canning, preserving and meal-planning skills.
We spoke to Chas about a seasonal approach to canning food and homesteading family values. We also got some tips for organizing your pantry.
A Homesteading Heritage
Chas recalls fond memories from growing up, when her grandfather kept horses, goats, pigs and chickens on his property. She retains fond memories of days spent canning with her grandmother.
These formative experiences helped inspire Chas's own homesteading values. Now she's determined to pass on the importance of "work ethic, knowledge and a love of homegrown, homemade and simply home" to her own children.
---
Read more: These 5 preservation methods bypass canning completely.
---
Getting Into Canning Essentials
View this post on Instagram
"Every year without fail I can jam, apple butter, tomato sauce, spaghetti sauce, various fruits such as peaches, blueberries or blackberries, green beans, pickled okra and a variety of soups like vegetable or tomato," says Chas, listing her must-have canning projects.
Meal Planning and Canning
View this post on Instagram
When it comes to cooking with her stock of canned and preserved foods, Chas says she's a big fan of using home-canned green beans as a versatile side dish, often mixed with some caramelized onions, bacon and mushrooms.
"If the pan is dry, I add a bit of homemade chicken broth for moisture," she explains. "It gives such a rich, delicious decadence to the humble green bean. Simple ingredients can make a very special meal."
For celebratory occasions, Chas likes to reach for a jar of home-canned peaches. She uses them as the basis of a cobbler.
"It's a warm, comforting mix of fruit and sauce with a sweet bread topping," she says. "My family's most favorite way of eating cobbler is accompanied with a scoop of real vanilla bean ice cream."
---
Read more: For this grower, seasonal produce led to better health.
---
A Seasonal Approach to Food Preservation
View this post on Instagram
Chas says that she works on her pantry supplies all year around, which includes preserving bone broth and roasted winter squashes during the colder months.
"We have to work with the seasons and what that brings and that is a huge tip," she explains. "When the strawberries begin coming in for spring, make jam. When the cucumbers begin to grow in early summer, before they get too bitter from the heat, begin your pickles. And when tomatoes come in, roast them and make your sauces or salsas."
Chas's seasonal approach to preserving food extends beyond her homestead, too. She asks local farmers to see if they have any excess crops they're looking to move on.
"You might grab a bushel of okra for the freezer, for pickled okra or to dehydrate. Or maybe some extra tomatoes for a batch of spaghetti sauce for your shelves."
A Love of Pantry Organization
View this post on Instagram
If you scroll through the Heritage Acres Homestead Instagram account, you'll come across photos of some exceptionally well-organized pantry shelves.
"I've said many times [that] organization is my love language and it really is!" says Chas. "Is everything in my life organized? Sadly, no. But it is something I strive for because it brings peace to my heart and mind."
Follow Heritage Acres Homestead at Instagram.