There is no set recipe when it comes to agricultural success. For many producers, the initial direction requires a change in course as market conditions and the growing climate evolves.
For Jacob and Courtney Cowgill's beginning of Prairie Heritage Farm and now Blue Truck Bread in Power, Montana, what begins in the fields has a scrumptious finish in the oven.
Knead to Know
Jacob began working for two seasons with Bob Quinn, the founder of Kamut International, on his organic farm in Big Sandy. Quinn became a key influence in the way Jacob viewed agriculture.
Constantly experimenting with seeds and growing techniques, Quinn raises fruit and vegetables without irrigation in an area where months without measurable rain is common. And he grows other crops, such as safflower and hemp, to diversify beyond the typical monoculture model.
"I knew I wanted to start a small vegetable farm but didn't consider raising wheat," says Jacob, who wasn't raised on a farm. "You just don't start wheat farming."
This region of Montana is called the "Golden Triangle" because its optimum conditions result in some of the highest quality grains in the world. But to delve into this agricultural realm, it usually requires hundreds, if not thousands, of acres to make the effort worthwhile.
Yet, the viability of growing ancient or heritage grains was consistently in the back of Jacob's mind.
---
Read more: Check out these 7 trends to consider for your farm business.
---
Of Ancient Days
Both types of wheat were born before the green revolution. But in the era shortly after World War II, when modern breeding and agricultural practices left older varieties behind, ancient (or heirloom) grains were the first ones grown.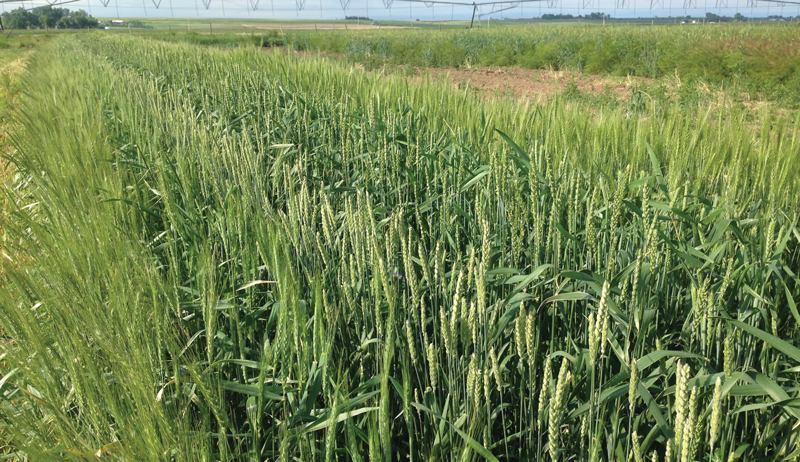 Varieties such as farro, Kamut Khorasan wheat, spelt and einkorn have been around since the dawn of civilization. From many of these ancient grains, heritage types developed throughout the world. Today, they retain their unique characteristics, escaping modernization.
Getting Into Grains
When the Cowgills launched Prairie Heritage Farm in 2009 on leased land, they primarily grew vegetables for their CSA program, as well as for their spot in the Great Falls Farmers Market. Jacob also planted a few acres of wheat, including 200 varieties an ounce at a time, to determine which ones grew the best.
After they purchased their current property approximately a half hour south, the Cowgills expanded the grain growing. They refined what thrived and what customers wanted.
The trick, however, was marketing it. For a time, they offered a grain share, and people could also buy it at the farmers market. But there needed to be a new step to make the experiment viable.
"Since I was growing wheat, I wanted to bake with it," Jacob says.
While selling vegetables at the farmers market, they brought a few loves of sourdough bread, which sold immediately. The next week, they brought more. The trend condition continued, and they even started offering a bread CSA for a while.
---
Read more: Is your CSA not filling up? Here are some things you can do.
---
When It Grains, It Pours
Deciding what works in any business is a difficult decision, particularly in the farmer-to-customer scenario. In the beginning, the Cowgills focused on their CSA program and the farmers market. But after a few years they discovered it really wasn't working well for them or their customers.
Jacob felt that the CSA model was beneficial in the beginning because it introduced them to the community. But as those managing a CSA know, it involves significant customer service responsibilities.
Coordinating pickup times and ensuring there is more than kale in the basket requires a balancing act and a blessing from Mother Nature.
"The CSA model was kind of waning nationally," Jacob says. With peoples' lives truly busier, and an increase in national fresh-food baskets, he believes customers were looking for different options. Then the situation all natural farmers dread sealed their decision.
Decided by Drift
"That year we got drifted by herbicide," Jacob says. "Thankfully, we didn't have CSA members to reimburse."
While nothing died outright, when they noticed deformed leaves, they knew something was amiss. After a confirmation through lab tests, they knew that was the end of their vegetable season. There wasn't even anything untouched they felt comfortable to eat.
"At that time the bakery was taking off," Jacob says. "The next year, we tried vegetables again and got drifted again." This was the proverbial nail in the CSA program.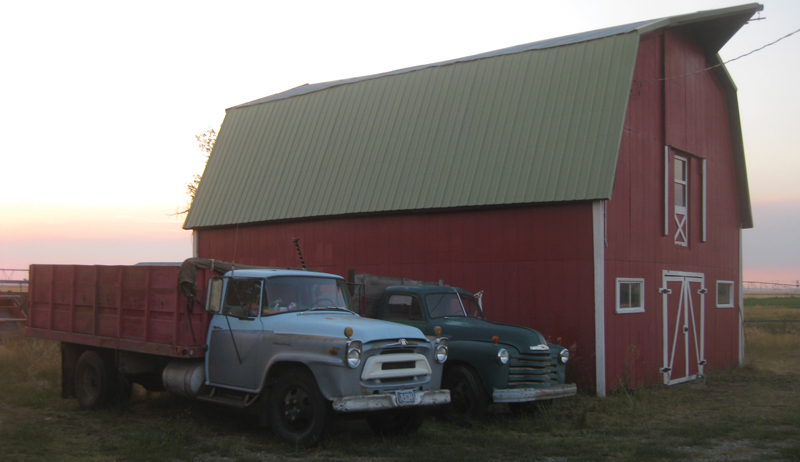 He focused on baking bread as Blue Truck Bread, the colorful moniker inspired by the "new" 1963 GMC pickup he received as a Father's Day gift in 2015. With no vegetables to sell, he increased his selection of sourdough bread to the farmers market.
While the sourdough bread was a hit, once again, their sales plan shifted.
"We always thought of (the farmers market) as a living business card," Jacob says. There, they were able to introduce products to the community and learn what people wanted the most. But when a local restaurant approached them to bake all of their sourdough bread for their specialty sandwiches, they were able to step away from the farmers market completely.
Blue Truck Bread was born.
"It just worked out," he says. "We had the best season of our life. We went hiking and camping and spent time with the kids."
---
Read more: Dealing with drift or overspray? Here's what you can do.
---
Let it Rise
The farm was set up for agricultural, but Jacob had to find a place to bake on a larger scale. An old butcher shop that they used during the seasons when they raised turkeys—and was afterward converted to a vegetable processing space—seemed to be ideal.
After adding racks, multiple commercial mixers and deck ovens, roughly half of the 1900-square feet area is now their bakery. No longer found at the farmers market, Blue Truck Bread is now sold in local grocery stores and restaurants.
"Probably the most popular bread is the honey sourdough," says Jacob. He keeps the bread local through and through by using honey from the family-owned Smoot Honey Co., a neighbor of theirs north of Great Falls.
According to Jacob, customers truly enjoy the Seedy Bread that uses lentil flour, as well as sesame, flax and sunflower seeds. Montana is one of the top pulse crop producers in the country, and even though they don't grow the lentils on their farm, they are all Montana-produced.
Wheat for It
For years, Jacob grew and tested a variety of heritage grains to determine which ones he likes the best. "I've always experimented with growing different varieties," he says. "The issue with experimentation is growing them to see what grows well here, then bulking up to grow enough to mill and bake with."
Currently, he enjoys working with Turkey Red hard winter wheat. Brought to the Kansas area in the 1870s by Russian immigrants from the Ukrainian region, Turkey Red adapted readily to the region, producing an excellent quality wheat that has a smaller head (than modern wheat) with dark kernels.
"It's a wheaty wheat," Jacob says. "It has a high-protein content and strong flavor. I also like baking with Sonora wheat. It's really light."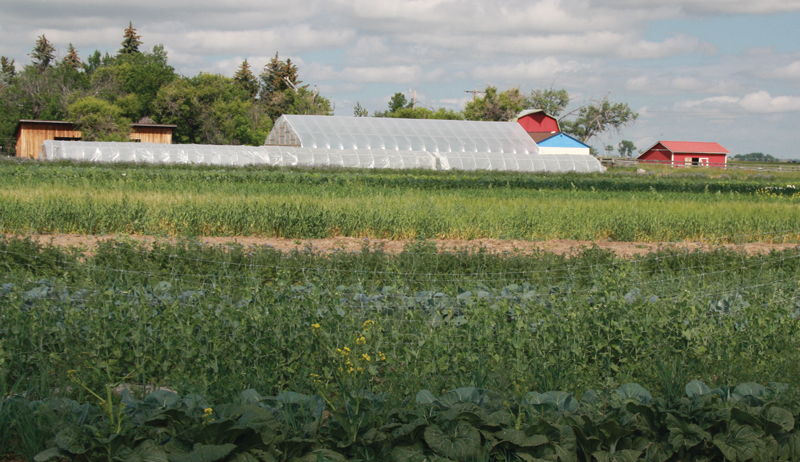 He has long grown the Sonora wheat, another hardy winter wheat that grows well even in semi-arid conditions. It's popular in the Southwest as it makes excellent flour for tortillas but also creates light, delicious bread.
When it comes to milling, Jacob set aside the bicycle-
powered grinder he used to demonstrate grinding grain years ago. In the initial baking days, he used a Magic Mill, the kind he remembered from his childhood. And while he still uses it to mill the lentils into flour for the Seedy Bread, he increased production with a 12-inch Meadows Mill, a type of stone mill.
The Beauty of Baking
Baking bread has a distinctly different rhythm than the typical agricultural season, yet working with sourdough fits well into everything he has to do.
"That's the beauty of sourdough," he says. "It takes longer than the yeast breads, but you have control of your schedule."
Lately, he usually bakes two to three days a week, spending the rest of the time packing, slicing and delivering. Instead of depending on employees, Blue Truck Bread is a family affair.
"I like the way it is now," he says.
Blue Truck Bread's newest addition is frozen pizza dough sold through preorders or in local stores. To strengthen the farm-to-table connection, they are planning to build a fire oven where they can invite the local community out to the farm to soak in the beautiful Montana landscape while savoring homemade pizza made with homegrown grain crust among friends.
Farming requires growth in more ways than one. Jacob might have started along a traditional route, connecting people with homegrown food, yet his background and interest in growing grains sprouted a brand new direction for his family.
This ingenuity, turning heritage grains into delicious sourdough bread, created a unique niche where his thrilled customers enjoy a taste of place.
---
Sidebar: Bread Bites
We asked Jacob Cowgill of Prairie Heritage Farm and Blue Truck Bread for some breadmaking tips.
You don't need to knead. After mixing all your ingredients together, let time do most of the fermentation and gluten strengthening. All you need to do is gently fold the bread in on itself from each of its four sides every half hour throughout the primary fermentation.
Flour matters and good flour makes good, nutritious, flavorful bread (i.e., good wheat, good farming practices). Buy the freshest ground and most local flour you can. I realize this is a pretty big challenge for most, though.
Use a pizza stone or unglazed quarry tile in your oven. It acts as a heat sink and helps to stabilize the oven temperature.
Generate steam when you first put the loaf in the oven. You can do this by putting the loaf in a Dutch oven with its lid on that has been preheated with the oven. (The bread creates its own steam.) Or you can set a small cast-iron pan on the bottom shelf to preheat with the oven. When you slide the bread in, pour a cup of hot water in the pan.
---
Sidebar: Giving Back
During the initial stages of the COVID–19 pandemic in the U.S., Jacob and Courtney Cowgill worked with a food provider's network funded by the Alternative Energy Resources Organization to help supply food to those who needed it the most.
The program provided the white flour, and the Cowgills used whole wheat from the grain that they grow for Blue Truck Bread to send loaves of sandwich bread to the Montana Food Bank Network.
This article originally appeared in the November/December 2020 issue of Hobby Farms magazine.