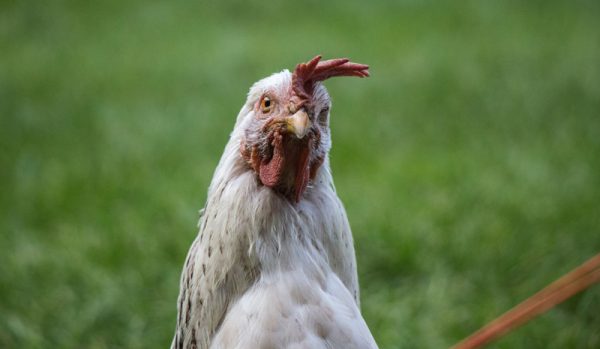 PHOTO: Rachel Vine/Pexels
Around the world, people are preparing to celebrate the Lunar New Year on February 12. For those of you whose resolutions didn't get off to the hoped-for start in January, here is your chance to revisit those goals and try again.
According to Chinese astrology, 2021 is the Year of the Metal Ox—a time for traditions, hard work and thrift. In other words, it's the ideal time for you to make 2021 the Year of the Chicken!
Raising chickens has become more popular than ever, thanks to extended time at home paired with the desire to produce safe, healthful food.
It seems remarkably simple: get some hens, build or buy a little coop, collect fresh eggs. Like any project, however, keeping a flock entails a lot more research and preparation than is apparent.
For those of you who plan on starting your own microflock this spring, my next few columns will focus on the very basics of chicken keeping … and by basic, I mean geared towards anyone who wants to raise hens but has never even seen one in person, other than in a bucket or as a nugget.
And now, let's get started getting started!
Step One: Check Your Local Laws
All the hours you spent online, researching the prettiest and most abundant egg layers around, mean nothing if you cannot legally keep chickens where you reside.
Before you draw up a list of breeds, research different feeds, and calculate your future flock's needs, reach out to your local ordinance officer. This government official enforces local regulations regarding poultry-keeping as well as other ordinances affecting property within your community's borders.
If your local government maintains a web site, all the information you need regarding poultry ordinances may already be available to you online. If not, call your city hall and request the ordinance officer's email address. This way, their answers to your questions will be documented and easy to reference whenever necessary versus trying to recall what was said over the phone.
The three key questions to ask your ordinance officer are:
Am I allowed to keep chickens on my property?
How many chickens may I keep on my property?
Am I allowed to keep roosters or only hens?
---
Read more: These quiet breeds of chickens are great for keeping peace with neighborhood hens.
---
Can I Keep Chickens, Please Please Please?
Believe it or not, this question does not necessarily have a cut-and-dry, yes-or-no response.
Yes, there are communities that straight-out do not allow chickens. If you live in one of these, I'm afraid you are out of luck.
The answer, however, may be "maybe." Whether you can keep a flock may depend on where your home is located within your town.
Most communities are divided into different zones: residential, agricultural, rural, commercial, etc. Your town may only allow keeping chickens in rural and agricultural zones. Or your town may allow chickens across the board.
Your ordinance officer will be able to look up what zone you live in and whether you can keep chickens there.
How Many Chickens Can I Keep?
Once you've determined that you can indeed keep chickens where you live, you need to find out how many you can keep.
Towns typically determine this by the size of your property. Home owners with less than two acres may be limited to, say, 12 chickens. Those with more than five acres, however, may be allowed to keep an unlimited number of birds.
Another factor affecting the size of your flock is the type of community you live in. If you live in a large city like New York City and Los Angeles, you may find yourself restricted to four or fewer birds. If you call suburbia home, your local ordinances may allow you to keep four to six chickens.
Be prepared, however, should your town's ordinances be obsolete or downright odd. One rural township near our farm allows for only one chicken per acre. Last I heard, residents were mounting a challenge to that gem of a law.
---
Read more: Should you get a rooster? There are pros and cons.
---
Can I Keep Roosters?
If you plan for your flock to be self renewing, you will want to keep at least one rooster to be the daddy to future chicks. You may need to put those plans on hold, however, if ordinances prohibit owning a rooster.
This is a common regulation, especially in urban and suburban settings. Neighbors don't want to be bothered with crowing around the clock. (And yes, roosters crow all day long.)
Your ordinance officer can probably answer this question off the top of their head. If you can keep a rooster, ask whether there are any regulations related to the noise a rooster makes.
You may, for instance, need permission from your neighbors to keep a rooster along with your hens. And you may have to part company with your rooster if a neighbor lodges a complaint.
Other Considerations
In addition to these three key poultry points, many towns maintain ordinances that regulate other aspects of chicken-keeping.
The city just south of us, for instance, allows residents to keep hens but prohibits the sale of eggs. The town to our east strictly regulates how to dispose of chicken waste and dead birds, while the village to our north prohibits ownership unless the flock is fenced in.
Our township regulates:
how large a coop can be without requiring a construction permit
where a coop can be placed with regards to property lines
how many coops can be built
Many communities also reflect their state's Department of Agriculture recommendations in their local ordinances. So it may be worth your while to visit your state's ag department's web site, if simply to see if the information there answers questions you may not know you had.
With these details in hand, you can begin to build the foundation to flock management. You know how many birds you can keep, whether you can keep roosters, how big a coop you're allowed, where on your property you can situate your coop, and whether your neighbors can affect your chicken keeping.
Next week, we'll discuss the next step: determining what exactly you want from your future flock.