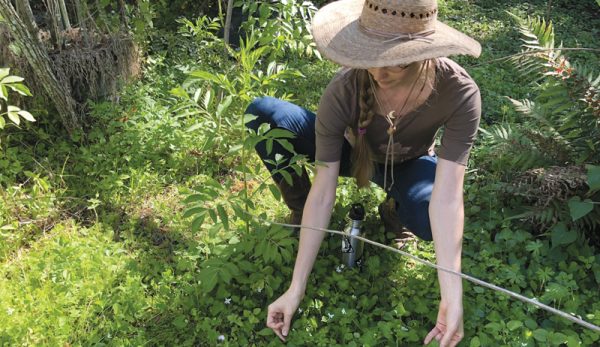 Herbs have always been in Caitlin McMullen's life. The Sarasota, Florida, community herbalist says that when she was a child, her parents would make chamomile and peppermint tea. It wasn't until college, though, that she would use herbs to care for herself.
"I started to learn more about herbs and how we can work with them daily to support health," she says. "For years, this mostly meant working with dried herbs for tea. It wasn't until later that I began working with fresh herbs, wild herbs and different preparations."
McMullen spent much of her childhood playing outside, often in wild spaces. Herbalism has continued to return her to that place of connection and presence with her environment in a poignant and profoundly fulfilling way.
She explains that in our globalized economy, herbs don't have to be used seasonally. And some herbs are useful throughout the year.
"If you think about how we tend to want warm, cooked food like soups and well-cooked vegetables during the winter and cool, light foods like salads and fresh fruit during the summer, we can see how our needs shift seasonally," she says.
Winter weather may warrant warming, spicy, pungent herbs such as ginger, garlic, rosemary and horseradish. In the summer, we favor cooling herbs such as iced hibiscus or peppermint teas.
Tea Time
One of McMullen's favorite things in the winter is a variety of spiced tea with bitter roots.
"I decoct, or simmer, herbs like dandelion root, burdock root, cinnamon and reishi mushroom together," she says. "Sometimes I just enjoy it like this, and sometimes add a bit of honey or maple syrup and milk to make an especially comforting hot tea for supporting digestion and liver health, both of which can get a little sluggish in the winter when we're not getting as much fresh produce in our diets."
In the summer, she prefers simple iced teas of hibiscus, peppermint or pine needles. "These are all yummy and fresh-tasting, all deliver vitamins and minerals and help us to stay hydrated," she says.
---
Read more: These 7 herbs will help reduce and manage your stress levels!
---
Herbal Health Help
According to McMullen, there is a huge body of evidence for the efficacy of herbal remedies.
"Some folks like to rely more on traditional knowledge. And there is some wisdom to this, since humans have found ways to keep themselves healthy and address illness and imbalance in the body for the entire history of humanity," she says, adding that the modern scientific community is catching up to some of this traditional knowledge, with countless studies proving the efficacy of different plants to address disease.
"Many of our pharmaceuticals come from isolating and sometimes altering compounds found in plants," she says. "Sometimes, herbs take a long period of consistent use before a person can feel that they are having a beneficial effect on them.
"But sometimes, you can feel the effect instantly. If you've ever eaten too much hot sauce or wasabi, you know how they work. Hot peppers make you feel hot and sweaty by moving circulation to the periphery of the body. Wasabi opens the sinuses in a very powerful way.
"Have you ever inhaled the steam from a hot cup of peppermint tea? Then you know how it feels as if it is opening and clearing to the mind. Engaging with herbs through our senses and our felt experience is one of the best ways to understand that they do have real, immediate and profound impacts on our bodies."
Herbal CSA
A CSA partnership exists between grower and consumer for everything today. Herbalism should be no different. It's a great niche market to expand into.
People love the convenience of receiving a box monthly or quarterly of items they can't grow. McMullen dabbled in an herbal CSA program for a while and has advice for herbal entrepreneurs.
She only advertised on social media as she didn't want to grow too big too quickly. She needed to balance business with family and included five products in each seasonal box:
a tincture
a topical preparation, such as an infused oil
a salve, a facial cleansing mask or a bath blend
a food item, such as an infused vinegar, herbal honey, soup mix, seasoning mix or culinary infused oil
a bulk tea blend
an emotional/spiritual support item, such as a bundle of herbs for burning, a flower essence or a tincture blend meant for emotional support
McMullen also sent out a multi-page newsletter with an introductory message about things happening seasonally in her garden, her personal life and the larger cultural experience; about each preparation; and the main herbs included in them.
"Balance long-term planning and preparation with improvising based on what happens seasonally with the herbs you're working with," she says. She also advises that because tinctures take four to six weeks, plan far in advance. And grow more than you think you'll need.
Plus, make sure that the products you're making are ones you'd be happy to find in your mailbox. Think about how the different elements you include in your box fit together. Include information on how and why to use the items.
Finally, if you're a beginning herbalist and thinking of starting your own CSA, don't get too complicated. Work with simple, or single herbs, rather than blends.
---
Check out the Healing Herbs annual from Hobby Farms for more great herbal information!
---
Bioregionalism
Bioregionalism is the practice of knowing and working with the organisms in your bioregion. For herbalism that means knowing local plants, native and invasive, and those easily cultivated.
Studying a plant that you cultivate in a garden gives you a fuller understanding of it. And so does witnessing wild plants growing in their natural habitat.
Watch plants move across a yard or field over several seasons. Notice which growing conditions different plants thrive in. Eventually, you'll begin to develop a greater connection and relationship with the plants and local ecosystem.
"It is increasingly important to remember and tend our connection to place and to the other beings living near us," McMullen says. "Wouldn't it be wonderful if we didn't only find our friends and communities through our devices, but if we could walk outside and be greeted by our dear friends growing out of the ground?"
I, like McMullen, live in subtropical Florida. Bioregional herbalism brings awareness of how prolific different plant communities are. McMullen says those who live in regions where well-known plants in Western herbalism—chamomile, dandelion, chickweed, nettle, burdock, Echinacea, etc.—don't grow wild shouldn't fret. We all have unique herbs that we can't find at grocery chains.
Recommendations
Although she equated choosing a favorite wild herb like asking librarians what their favorite books are, she was able to come up with a few. Her list included:
Spanish needle (Bidens alba)
plantain
wild violet
pine
usnea (a lichen)
reishi (a fungus)
Florida betony
goldenrod
pine
"Just as many people feel called to grow some of their own food or to support local farms, growing or tending wild local plants and supporting local herb growers and herbalists shortens the supply chain into something much more sustainable," McMullen says.
"In this age of instant online purchases and of separation from and ignorance of how our material goods—including food and medicine—are made or grown, remembering how to find, grow and sustain deeper relationships with the food and herbs we consume and the people who help us source them is increasingly crucial."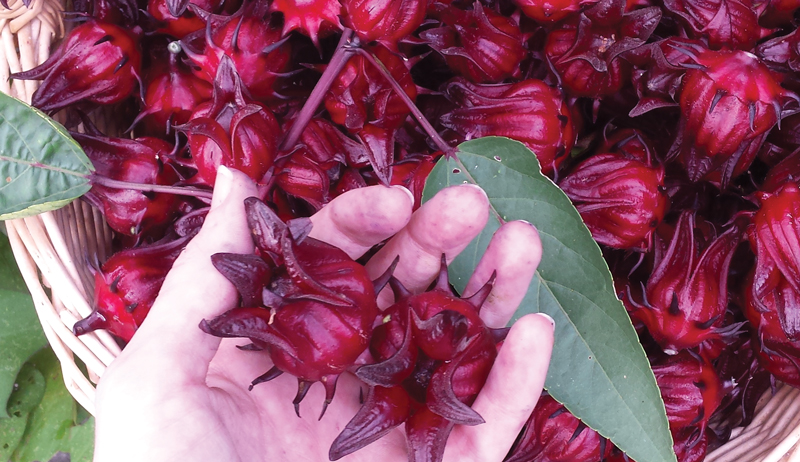 Life Learning
McMullen also teaches herbal classes. She hopes that students walk away with a renewed enthusiasm for working with herbs and have an openness to develop their own personal relationships with the herbs.
"We often have the impulse to 'master' things, to learn as much as we can, to not feel like a beginner," she says. "When learning about herbs, this often looks like buying or growing a ton of different herbs and using them all at once, without the time and space and attention to really learn about how each one interacts with our individual bodies."
McMullen advises to lower your expectations. Grow one new herb each year, and spend that growing season really focusing on its development. Work with it fresh, dried or as a tincture.
"Spend a much longer time than you think you need to focusing on that one new herb," she says. "Be humble. Let the plants and your own experience guide you. But also don't neglect to find resources about the herbs in books and respected herbal teachers as well as scientific literature, if available."
Finding a teacher that is knowledgeable in local herbs is also a great resource. McMullen says those teaching from experience will share better, well-rounded and responsible offerings than those who regurgitate information available online.
The tropical and subtropical plants that grow in southwest Florida where McMullen lives are particularly well suited to supporting health. But even more than this, she feels that if we can build up our home herbal apothecaries with local plants that we have relationships with, we can rely less on large-scale cultivation and wildcrafting efforts from far flung places, where practices are difficult to learn about.
We'll also reduce the amount of fossil fuels expended to ship our herbs to us.
With COVID-19 freshly in our minds, Caitlin's next statement is particularly comforting. "I don't feel isolated and disconnected when my human relations are absent," she says, "because I always have a larger community of plants, animals and fungi around me that I know and have relationships with."
---
Sidebar: Say What?
What's the difference between a tincture, an infused herbal oil and an essential oil?
A tincture is a concentrated liquid extract of an herb, usually done in alcohol. Other liquids can be used, such as apple cider vinegar and vegetable glycerin.
An infused herbal oil is like a tincture but made with vegetable oils, such as olive or sweet almond oil.
Essential oils are the volatile aromatic compounds from plant material. They are extremely concentrated and need to be properly diluted for safe use.
---
Sidebar: Infuse Your Own
If you're overloaded with frozen and dried herbs, try creating some infused oils. These can be used to create salves, lip balms and soaps.
Fill a jar one-quarter to one-half full with dried herbs, then pour in sunflower or olive oil almost to the top of the jar. Cover and store in a sunny spot for about four weeks, shaking occasionally.
Strain and rebottle in a clean, sterile jar. This infused oil will stay fresh for approximately nine months to a year, depending on the quality and freshness of oil used.
Use It
Salve
To make a salve, pour 1⁄2 cup infused oil into a heat-proof container, such as a Mason jar or recycled tin can. Add about 2 tablespoons of beeswax, and set the container down into a saucepan containing a few inches of water.
Place the pan on medium-low heat until the beeswax melts, and remove from heat. Add about 10 to 20 drops of essential oil if desired, then pour into tins or a small glass jar.
Herbal oils that make great salves include:
lavender (soothes skin and relaxes before bedtime);
mint (rub on temples and neck for headache and muscle tension)
calendula (all-purpose skin softener, useful for scrapes and bug bites; can be used on a dog's hot spots and chafed nose)
cayenne (for sore muscles, arthritis and nerve pain).
Lip Balm
Lip balm is made similarly to a salve, but only uses 3 tablespoons oil to 1 tablespoon beeswax. For flavor, add eight to 10 drops of an essential oil, such as peppermint or spearmint.
Herbal oils that work well in lip balm include:
lemon balm (which helps fight cold sores)
calendula
violet leaves (smooth chapped, dry lips)
Soap
You can replace the olive oil in any soap recipe with your favorite infused oil. Calendula, plantain, lavender, lemon balm, chamomile and violet leaf infused oils make lovely additions to soap. — Jan Berry
This article originally appeared in the November/December 2020 issue of Hobby Farms magazine.