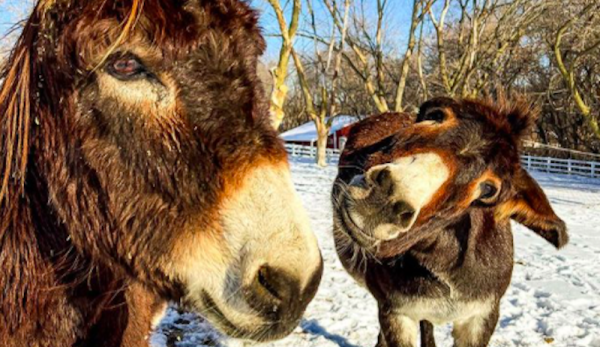 When Tara Sirny was growing up, she considered herself to be "a horse girl." But later in life, after meeting a couple of miniature donkeys that a neighbor was caring for, she fell for the braying animals.
A little further down the road, Sirny's husband surprised her with a rescue donkey named Rio for their wedding anniversary. Now she presides over the Minnesota-based I Da Ranch, where donkeys and felines live together.
We spoke to Sirny about common misconceptions concerning donkeys and what it's really like to live in their company. We also touched on the way the resident cats bless the donkeys with comforting head scratches.
Caring for Donkeys
"Donkeys are no different than a lot of animals to care for," says Sirny. "I do chores in the morning and evening, which consists of feeding them, giving them water and treats, mucking the stalls, and grooming them."
She adds that she loves talking and relaxing with the donkeys. "I don't view them as demanding at all—actually quite the opposite."
---
Read more: Miniature Mediterranean donkeys make great companions!
---
The Stubborn Misconception
View this post on Instagram
Sirny says she's found her donkeys to be smart and gentle creatures—even though they're often stereotyped as being stubborn.
"Some curious things that I have learned is it takes time to gain their trust," she explains, "and also how each of their personalities shines through."
Meeting Rio & Jenna
View this post on Instagram
Rio and Jenna are the I Da Ranch's resident donkeys. Sirny characterizes Rio as being "the affectionate one" and says "she is constantly seeking attention and hugs. I love how she rests her head on my shoulders and her eyes talk to me, letting me know she is right there."
When it comes to Jenna, Sirny calls her "very sweet natured" and says "she is shy and still timid as she had a lot of issues before we rescued her. She gets nervous for some things like brushing but does really well for the farrier."
---
Read more: These barn cats rule the roost at Parallel 45 Farm!
---
Cats & Donkeys in Harmony
View this post on Instagram
Along with Rio and Jenna, I Da Ranch also houses a number of felines.
"They get along great," says Sirny. "Mind you, the cats do have their own stall they live in, but they are constantly in contact with each other. Rio has more interest in the cats than Jenna. Rio will put her head by the cats to get head scratches. It's so cute."
Showing Love for Rescue Animals
View this post on Instagram
The donkeys at I Da Ranch are rescues, and Sirny is full of encouragement for anyone else considering providing a home for an animal in need.
"Love really does conquer all," she says. "If you are having reservations about a rescue animal, keep in mind they were left in the situation for a reason and mostly they lacked the fundamental necessities that we all need: Love, food, water and attention. Just have the patience, and the rewards are great."
Follow I Da Ranch at Instagram.