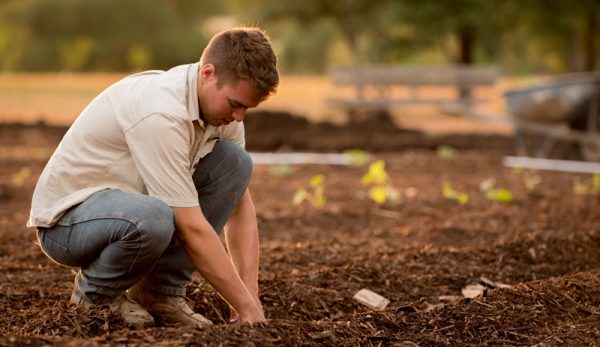 Regenerative agriculture isn't exactly new. But it is gaining momentum with many growers and the customers they serve.
What is it, though?
"To define 'regenerative' simplistically, it is a series of farming techniques that leave the soil and water and animals in a better space than when you found them," Andrew Gunther explains.
Gunther is executive director of A Greener World. The Oregon-based nonprofit is piloting a new Certified Regenerative farming program with 50 farms.
Established in 2014, A Greener World maintains a few different certification labeling programs. These include Certified Animal Welfare Approved, Certified Grass Fed, Certified Non-GMO and Salmon Welfare Certified.
According to a recent news release, the group's forthcoming Certified Regenerative label will offer "a whole-farm assurance of sustainability, measuring benefits for soil, water, air, biodiversity, infrastructure, animal welfare and social responsibility."
---
Read more: Regenerative farming is better for the soil. Here's why.
---
A Shift in Thinking
Still, to reap those benefits will take real effort, patience and a shift in thinking.
"There's a saying, 'Live like you're going to die tomorrow, but farm like you're going to live forever,'" Gunther says. "You want to make that your mantra…. You want your land to be there for 1,000 years in really good spirit."
He continues, "[Regenerative farming] is about saying, 'What practices can I use on my farm that will at least protect the water, but, preferably, [will] improve the water? What practices can I use on my farm that will improve my soil biodiversity?'
"Those are some of the things that regenerative agriculture needs to address."
Multiple Choices
It's worth noting that A Greener World isn't the only group with a Certified Regenerative farm program. "There are perhaps a half dozen others," Gunther says.
One such is the Rodale Institute's Regenerative Organic Certified (ROC) label. Introduced in 2018, ROC builds upon the USDA Certified Organic standard and is managed by the non-profit Regenerative Organic Alliance.
The Rodale program's three main pillars for regenerative certification include soil health, animal welfare and social fairness.
---
Read more: At this regenerative farm, animals work to improve the land.
---
Empowering Farmers
For its part, A Greener World's option is highly individualized and flexible. In other words? Every farm is different, with its own specific challenges. That means a one-size-fits-all approach simply doesn't apply.
"You have to farm for where you are, but you must leave it in a better condition than how you found it," Gunther says. "It's about sitting down and thinking about your practices…. The approach we are taking is that you as the farmer will decide what to tackle and how."
To start, farmers work with a team of experts to prepare a risk assessment tailored to their specific needs. For example, Gunther notes, "If you find your risk to water [quality] is zero, then you don't have to do anything about that."
But if you routinely apply herbicides and pesticides or rely on carbon-derived fertilizers?
"You would need to stop doing that, and we would look at other sources of organic matter," Gunther says. "The methodology used by the farmer is relevant for the farm that they live on. They've got to show that actually the practices they're doing at their location will have the prescribed outcome."
Achieving those outcomes could take from five to 10 years or longer, depending on the kinds of efforts required. ("It's not for the faint-hearted," Gunther admits.)
Initially, participating farmers and experts work together to set goals and develop long-term plans for the regenerative management of soil, water, air, cropping systems, livestock and more. Then, A Greener World's auditors make annual, in-person visits to each farm to check on progress and compliance.
Pilot Participants
From smaller fruit producers to at-scale growers supplying large retailers, the kinds of farms included in A Greener World's Certified Regenerative farm pilot program run the gamut. With participating farms in Australia, Namibia, South Africa, the United Kingdom, Canada and the U.S., they span the globe, too.
"We wanted to have as diverse a group of people in [the pilot] as possible to garner as much contradictory and conflicting information from these farms as we could," Gunther says. "And we are still filling the odd slot in our playbook to make sure we have as broad a spectrum of farms in the program as is possible to have."
Some of the pilot farms could achieve full Certified Regenerative farm status within the coming year. Curious to take part? To learn more—and possibly be added to the pilot program—contact regenerative@agreenerworld.org.