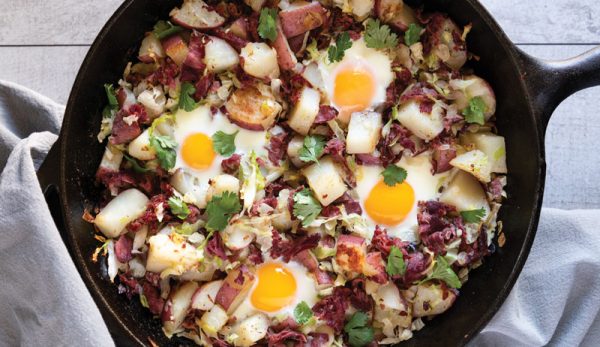 Whether served for breakfast, lunch or dinner, this recipe makes a comforting spring meal. Baked eggs add a delicate flavor
to the savory beef and potatoes. Meanwhile, cabbage gives it some leafy greens to keep a hefty serving from sitting too heavy on a busy morning.
Around St. Patrick's Day, it provides a great way to use
leftover corned beef, and chopped pastrami from the deli makes an ideal year-round substitute. 
Yield: 4 servings
Ingredients
1

1

⁄2

 

pounds red potatoes

 

2 tablespoons unsalted butter

2

1

⁄2

 

cups chopped or shredded cabbage

1 small yellow onion, diced

1

⁄2

 

pound cooked corned beef or pastrami, chopped

1

⁄2

 

teaspoon fine sea salt

1

⁄4

 

teaspoon ground black pepper

4 large eggs

chopped cilantro or parsley for garnish
---
Read more: Travel by taste with these international egg recipes!
---
Preparation
Pierce the potatoes in a few spots with a fork. Microwave for 3 to 5 minutes, until just barely tender. The goal of this step is to help the potatoes cook more quickly in the skillet. Once they're cool enough to handle, chop the potatoes into about 1⁄2-inch pieces.
Preheat the oven to 375 degrees F. 
In a large oven-safe skillet, melt the butter over medium-high heat. Add the potatoes and cook for 5 minutes, until they begin to brown on the edges. Stir in the cabbage and onion, cook for 3 to 5 more minutes until the vegetables are softened. 
Reduce the heat to medium-low. Add the corned beef or pastrami. Stir well for about 1 minute until it's heated through. Season with the salt and pepper, adding more to taste if desired. 
Spread the contents of the skillet evenly along the bottom of the pan. Use a spoon to make four wells in the hash. Add one egg to each of the wells. 
Bake for 12 to 15 minutes until the eggs are set. Sprinkle with cilantro or parsley and serve warm. 
This article originally appeared in the March/April 2022 issue of Chickens magazine.