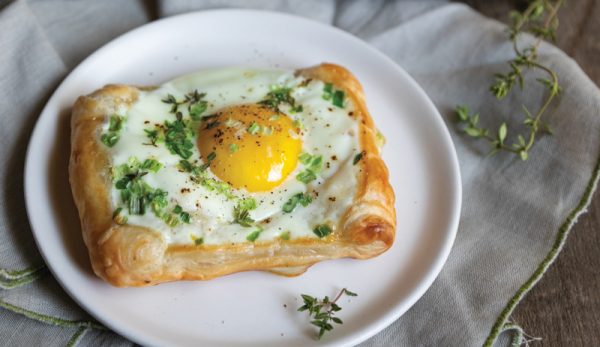 Eggs bake beautifully over squares of puff pastry in this simple brunch recipe. Fresh herbs sprinkled on top of the egg adds a touch of fresh flavor to complement a buttery pastry base.
Thyme is used here, but any combination of what you have on hand will work. Try basil, cilantro, rosemary or parsley, too.
As shown, this recipe is meat-free. However, you can add your own twist by sprinkling the top of the eggs with finely minced ham before baking, or top them with crumbled cooked bacon once they come out of the oven.
Yield: 4 servings
Ingredients
1, 8-inch square sheet puff pastry (thaw if frozen)
4 medium to large eggs
2 green onions, finely chopped
1 teaspoon fresh thyme leaves, plus sprigs for garnish
fine sea salt
ground black pepper
---
Read more: Egg overload? Here are 5 tips for when the basket gets full.
---
Preparation
Preheat the oven to 400 degrees F. Cover a baking sheet with a piece of parchment paper.
Cut the puff pastry into 4 squares. Roll the edge of each square inward one turn so that each looks like a small picture frame.
Transfer the squares to the baking sheet.
Gently crack an egg into each puff pastry square. Try to keep the egg within the perimeter of the rolled edges, but it's OK if a portion of the white runs out.
Sprinkle each with green onions and thyme leaves. Then, sprinkle a pinch of salt and pepper over each egg.
Bake for 25 minutes*, until the eggs are cooked and the puff pastry is golden brown. Remove from the oven, and sprinkle with thyme sprigs. Add more salt and pepper to taste, if desired. Serve warm.
*25 minutes will yield well-done eggs. If softer eggs are desired, begin checking the squares at 20 minutes and remove when they have reached your preferred doneness.
This recipe originally appeared in the July/August 2020 issue of Chickens magazine.