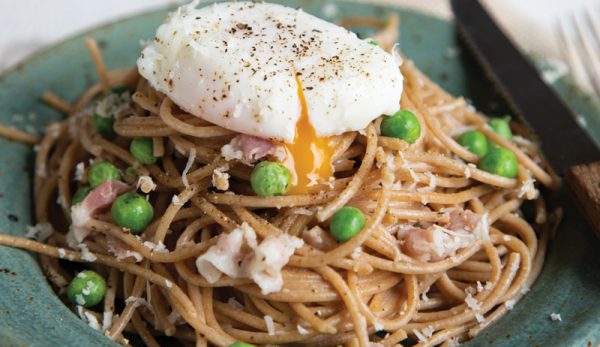 This pasta recipe puts a fun twist on traditional carbonara. Instead of tossing the pasta with egg during preparation, it's lightly coated in a sauce made of Parmesan and cream.
It's served with a poached egg on top so that each person can mix in the creamy yolk as they enjoy the meal.
The recipe calls for you to add peas to brighten the dish. But chopped asparagus makes another delicious addition.
If you can't find pancetta, simply use finely chopped bacon. We use whole-wheat spaghetti here, but you can also substitute white pasta or gluten-free pasta.
Yield: 4 to 6 servings
---
Read more: Here's how to achieve poached egg perfection!
---
Ingredients
1 pound whole wheat spaghetti
6 ounces pancetta, chopped
1⁄4 cup yellow onion, finely chopped
1⁄2 cup heavy cream
1⁄2 cup freshly grated Parmesan cheese, plus extra for garnish
1⁄2 cup fresh or frozen peas
salt and ground black pepper to taste
4 to 6 large eggs, poached, depending on choice of serving size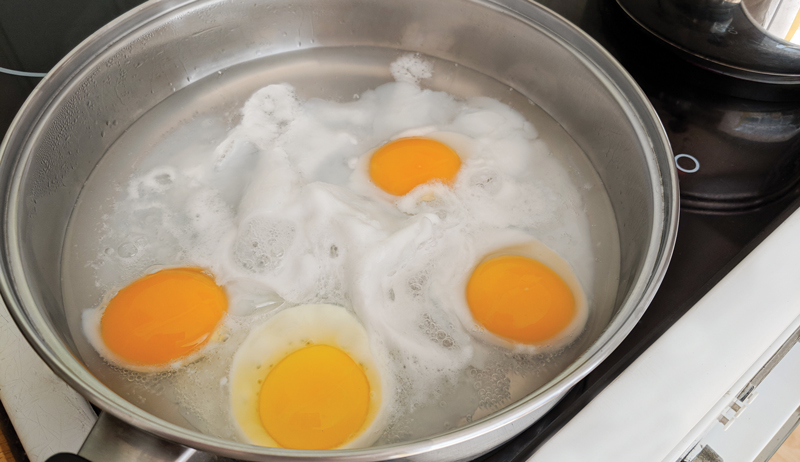 Preparation
Cook the spaghetti according to package directions. Reserve one cup of the cooking water, and set the pasta and the water aside.
Cook the pancetta in a large pot over medium-high heat for about 3 minutes, until it begins to firm up. Add the onion, and cook for 2 more minutes. The onion will begin to soften and the pancetta will darken in color.
Reduce the heat to medium, and add the pasta with the pasta water. Toss well, and reduce the heat again to medium-low.
Add the cream and Parmesan cheese. Toss well. Add the peas, and toss for about 2 more minutes until all of your ingredients are heated through. Add salt and pepper to taste.
To serve, add an equal amount of pasta to 4 or 6 serving plates. Top each with a poached egg. Garnish your carbonara with grated Parmesan cheese and cracked black pepper.
This article originally appeared in the May/June 2020 issue of Chickens magazine.