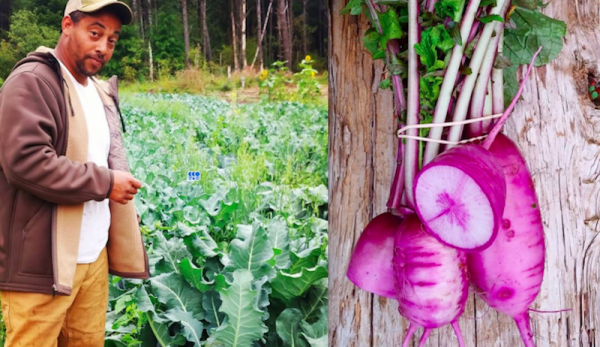 Katharine Harwell and Bil Thorn have shared an interest in farming since their late teens. These days they run the 15 acre Sky Island Farm in Humptulips, Washington, along with a little help from their two teenage children.
Situated on 15 acres of land, Sky Island Farm takes pride in growing over 50 varieties of vegetables, flowers, fruit and herbs. After the Covid-19 pandemic struck earlier in the year, Harwell and Thorn decided to focus their efforts on providing a Community Supported Agriculture (CSA) delivery service to local residents.
"It was a great decision," says Harwell. "We felt good that we were able to grow this side of the business and serve so many people this year. People loved that they didn't have to get their produce from the store and relied solely on the veggies we brought them."
Taking time out from processing the last of the holiday wreath orders, we spoke to Harwell about sustainable farming methods and the joys of daikon radishes. We also got the scoop on a giant 5-foot Christmas wreath they've crafted.
Making It Sustainable
"We have always embraced sustainable gardening and farming methods," says Harwell when asked about Sky Island Farm's growing practices. "[Sky Island uses] only Organic Materials Review Institute (OMRI)-listed amendments, and we never spray and focus big-time on plant health. We use methods like cover crops for fertility and weed control along with using black plastic to kill weeds so we do not have to use chemicals!
"Yes organic is intensive. And so much is done by hand. But it's worth knowing you have clean and nutritious produce."
Curating the CSA Box
View this post on Instagram
Harwell says that heirloom tomatoes, purple daikon radishes and purple cauliflowers were this year's big hits in the produce box. This was based on feedback from customers who signed up to Sky Island Farm's CSA.
"Our favorite way to eat the tomatoes was to chop them up with cucumber. Or we'd eat them by themselves and add walnuts, feta cheese, olive oil and reduced balsamic vinegar," explains Harwell. "Same goes with the daikon radish. But we also loved roasting the radishes too, which not too many people know about."
---
Read more: Create a crop plan to improve your CSA harvests.
---
Crafting Holiday Wreaths
View this post on Instagram
If you scroll through Sky Island Farm's Instagram account, you'll notice a stream of eye-catching festive wreaths. Harwell says that producing the wreathes "is a great side gig for the downtime."
She adds that all the materials that go into crafting the holiday decorations come from the farm. Any leftovers go to the goats and sheep or become compost.
A 5-Foot Holiday Wreath
View this post on Instagram
Part of Sky Island Farm's holiday season tasks include creating a giant 5-foot wreath for the town hall in nearby Seabrook, Washington.
"This wreath is made on a custom wood frame. It is made by hand because of its size," explains Harwell. "They have to bring in lifts just to install it! [The town] gets super festive and we are fortunate enough to be able to help and keep it local."
---
Read more: You can make a wreath from foraged grapevines!
---
Giving Back and Paying It Forward
View this post on Instagram
Looking back over 2020, Harwell says that she's proud of how Sky Island Farm has been able to run a 160-family CSA for "people of all income levels" via a sliding scale scheme. The farm has also formed a relationship with the Coastal Harvest distribution network to work with local food banks.
In recognition of Sky Island Farm's contributions, Harwell adds that recently Thorn was awarded the Farmer of the Year award from Washington State Tilth Alliance "for his efforts in growing organically and feeding his community and for being an inspiration."
Follow Sky Island Farm at Instagram.