PHOTO: courtesy of John Deere
Once upon a time, the typical farmer needed little more than a single, trusty tractor to handle most of the jobs and tasks on a farm.
Tractors are still the go-to machine when you need power for big projects. But for many modern-day tasks, tractors are giving way to two surprising challengers: ATVs and UTVs.
It's true that ATVs and UTVs can't match the strength of a tractor. Their smaller sizes and versatility, however, allow farmers to easily travel across many acres and accomplish a wide variety of jobs.
Check out these options!
---
Read more: Learn 10 ways that you can use an ATV or UTV for farm work!
---
Bobcat UV34
The gas-powered, 39.9-horsepower UV34 features a 1,000-cubic-centimeter, two-cylinder, single-overhead-cam engine. The 900-watt stator provides more power—about 75 amps of output—for use with a snow blade and other electric-powered accessories.
The cargo box, constructed of a composite interior, handles up
to 1,250 pounds and 15.6 cubic feet of materials or supplies. The UV34 also features an increased tow rating, improved ground clearance, all-wheel drive and service access.
A diesel version is also available. Find out more at bobcat.com.
John Deere Gator
The HPX615E was built for farm and construction work. It features a two-cylinder gas engine that produces 20 horsepower.
This UTV comes standard with four-wheel drive, a pickup-style tailgate, and real dumping cargo box with 16.4 cubic feet and 1,000 pounds of storage capacity.
The HPX815E version features a three-cylinder, four-cycle diesel engine that produces 18.2 horsepower. Find out more at deere.com.
KIOTI K9
Fully featured, tough and reliable companions, the KIOTI K9 2400 and K9 2440 offer an abundance of storage, an ergonomic design and contemporary styling.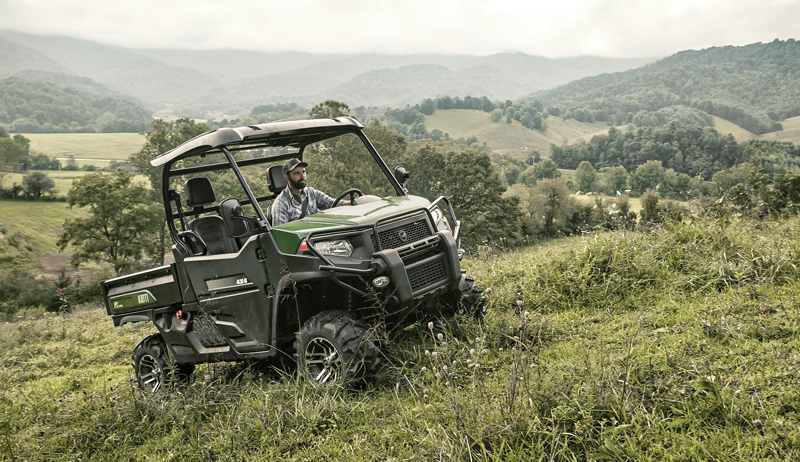 These workhorses feature a 24-horsepower, three-cylinder, in-line vertical, water-cooled Daedong diesel engine with top ground speed of 31 miles per hour.
The K9 2400, pictured above, also features an all-metal bed. It has a 1,102-pound bed capacity, a standard spray-in liner and an optional hydraulic dump kit.
All K9 models feature a towing capacity of 1,300 pounds and a payload capacity of 1,7501⁄2 pounds, allowing for a full range of towing and hauling capabilities. Find out more at kioti.com.
This article originally appeared in the September/October 2020 issue of Hobby Farms magazine.